<![if !supportEmptyParas]> <![endif]>
The Top Three and officers were playing a softball challenge in August 1985.
MSgt Don Mathias from the clinic had me and Ray Keith interrupt the game on
cue and distribute cold beer to the Top Three team. Here, Keith and I have
just driven onto the softball field with lights and sirens going... The Top
Three, who have been out in the field, are coming up to get "medicine" from us.
<![if !supportEmptyParas]> <![endif]>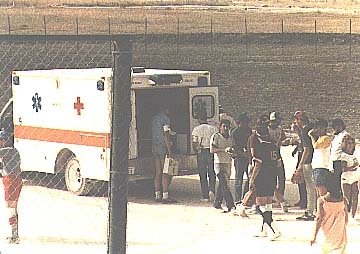 <![if !supportEmptyParas]> <![endif]>